Grown up i was surrounded by graffiti , i started doing it around the age of 13 . Kinder around the time
i started taking riding my skateboard a little serious . i wanted to learn tricks and how to wright on walls .
thats it . i can honestly say i wasn't that good at either . i was always just good enough not to be a poser or a toy .
92/94 . What can i say for myself i was a pretty big mess . my drinking really got out of hand at this time .
and i kinder put skating on the back burner . i rather go to parties and drink with people that weren't even my friends .
then hang out with my friends that i felt they didn't even liked me . i pretty much hated myself . to this day i still self loth .
but am trying a lot harder theses days not to be like that and it's really hard . it effect everything including my head and what comes out of it , your about to look at some of my graffiti from the early nineties and i'll be the first to say " IT SUCKS "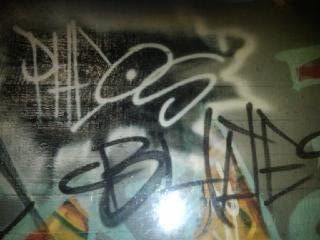 I WAS STILL PUTTING UP CBH EVEN THOUGHT I WAS KICKED OUT , FOR BEING DRUNK AND KNOCKING OUT TWO KIDS
THAT WERE IN THE CREW . I DON'T REMEMBER DOING THAT , BUT I DO REMEMBER WANTING TO FIGHT THIS KID SEAN
THAT SAME NIGHT FOR SAYING I DID , EVERY ONE GRABED ME AND TOLD ME SEAN WILL KICK MY ASS , AS THEY ALL HELD ME
BACK , HE WAS ABLE TO GRAB ME AND TOSS ME INTO A FENCE ,
I REALLY WANTED TO PUNCH THAT FUCKING TUFF DICK HEAD IN HIS FACE ,, IT'S REPLAYING IN MY HEAD RIGHT NOW AS I WRIGHT THIS AND AM GETTING HEATED , FUCK THAT KID I KNOW I WOULD HAVE BROKE HIS NOSE ..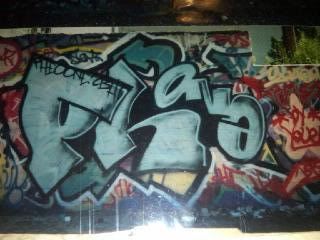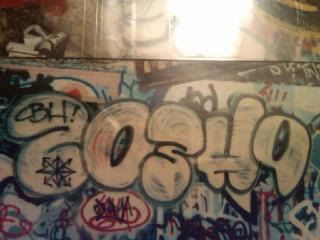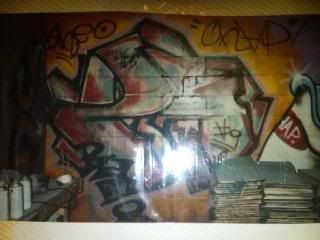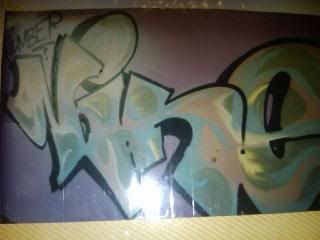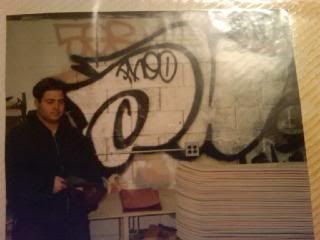 i was pretty bummed when my writer crew grew into a GANG . 90 % of thoses kids didn't wright , they just wanted to fight
with every one and each other . really thinking about them all they were pretty weak , except for the one that actually wrote .
like the ones on this pictuer below i still like and are friends with all theses guy ,, the rest i am glad are not in my life ..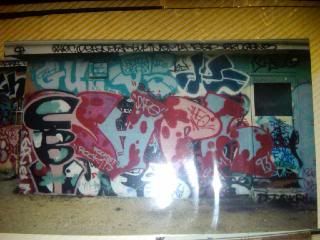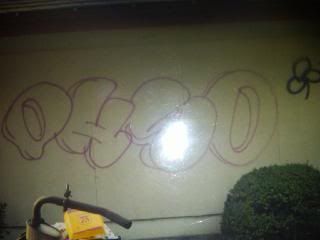 PHEO SARE INK
THIS WALL WAS UNFINISHED SO THATS WHY IT LOOKS LIKE CRAP ..
LOOK AT THOSES HANDS SO WEAK ..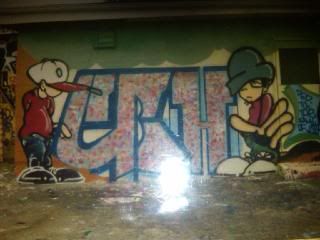 SEE THE ? MARK AFTER THE CBH HAHA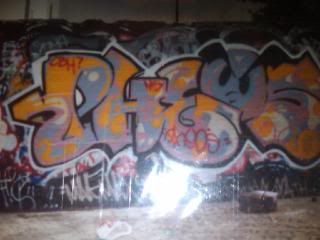 THE GIANT DINO , i never worked on something that big and you can tell . that ugly thing ran for a few years .
until the owner was arrested for trying to kill one of his men with a tire iron .. which sucked that was the guy that worked on my car for cheap .. he really fucked him up .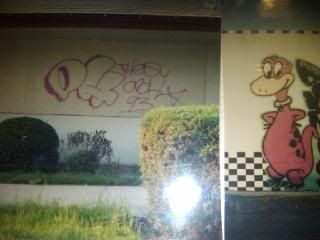 i sucked at doing pieces but i really loved bombing .. i still do !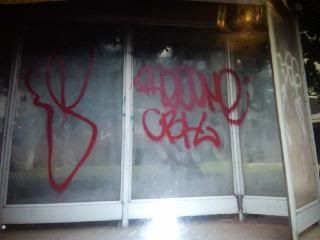 the first time i painted the ugly P THAT I BOMB with for years ..