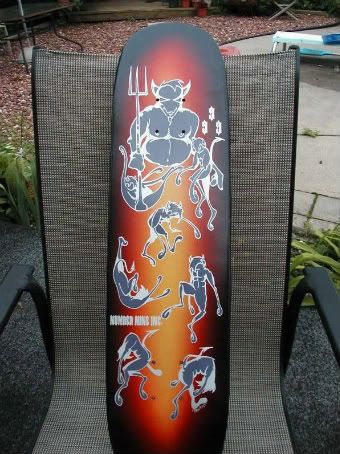 this is the DEVIL BOARD for #9 skateboards . i think
this is the first board i did for chapmen . i remember
gregg telling me that it out sold all the other nine decks
that made me feel pretty good inside , i know i could
draw this better , but it is what it is !...
the KEVIN CANDELA EVIL BUTTERFLY ..
i like this board from spay fade behind
the print and the upside down wings.
the first run we got to use all 8 screens
to print it . it took to long , i was willing to take
the time to make it look nice , but i understand
why we cut it down to 4 colors, we mix the ink
in the screen and it look good anyway on all the later
runs of this board ..
" I WILL FUCKING KILL YOU ! "
Steve at maestro really like this doodle i had in one of my books
and asked if he could used it , i didn't even ask for anything for it
just a board . i like it a lot more after he added the "i will fucking kill you " to it

the TREE OF THE DEAD .
this was for a short lived company called
BUTTER skateboards .i forget how i hooked up
with these guys . they half ass my original drawings.
droped the highlight colors & took out all the sketcy line work
that made this board look creepy ,
but it was when i was jobless and they paid
pretty good so there you have it ..

FISH BAIT
one of thing working for #9
was the fact that all the boards were painted
individually . which made every board different
from the next's . in the worm squiggles while screening
we would all take turns writhing something stupid , this one
was just a normal one , sorry no secret message .
still my favorites board , maybe because it so stupid and simple ..
FLOWER BOARD
i didn't really like the girl on this board at all.
her hands are too skinny and her boobs are too round
an she has no ass . just a really bad drawing . the guys AT
BUTTER skateboards liked it & i needed the money . so
i sold it to them ,, my friend Liz got it tattooed on her lower back
and the tattoo artist made it look 100 times better .
i have to have her take her shirt off for me so i can get a picture .
and a cheap sneek peek
bodega MOUSE deck
oscar wanted a team deck with everyones name on it .
me and A layed this out one night .
and he actually had it screened . instead of painting it
in his back yard

FRANK GERWER
theres a pictuer of me in a moo moo and frank laughing at
me , so when it came time to draw this graphic
me and frank got rally wasted and made this retarded board . i
am the bear & he's the squirrel .. we went to the trade show
when this came out , people looked at it and didn't get it . but still
laughs and smiles were made ,, touch down ! it did it's job
one year i painted a few boards for Christmas presents .
because i was broke .. am still broke , what can u do
thats life
for oscar
i forgot who i gave this too i think my friend matt
the quote is from willy wonker if your wondering
this went to mike brennan
he loves the return of the mac song and i love lotto ,
dollar and a dream bitches