THIS WAS THE FIRST JOB I THINK I GOT PAID FOR .
WE DID IT ALL FOR LIKE 200 BUCKS AND WE GOT TO KEPT THE PAINT.
THAT COMIC GUY MADE OUT LIKE BANDIT ON THAT DEAL ..
JOEY HELP ME WITH THE COMIC SHOP . HE PAINTED THE
RUE . I PAINTED EVERYTHING ELSE ..I WAS ALWAY BUMMED ABOUT THE FLASH
BLOW OUT ON THE PHOTOS OF VEMON BUT NO MATTER HOW WE SHOT IT , IT STILL HAPPEN ..
VEMON
SPAWN LOGO
SUPERMAN IS DEAD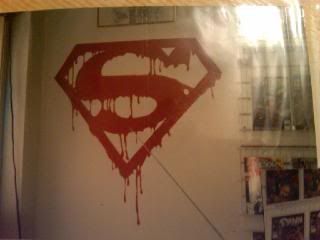 RUE